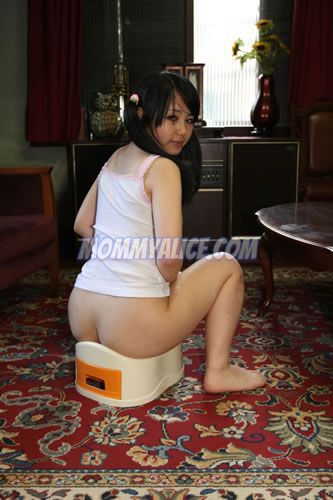 Sissy Potty Training
July 16, 2020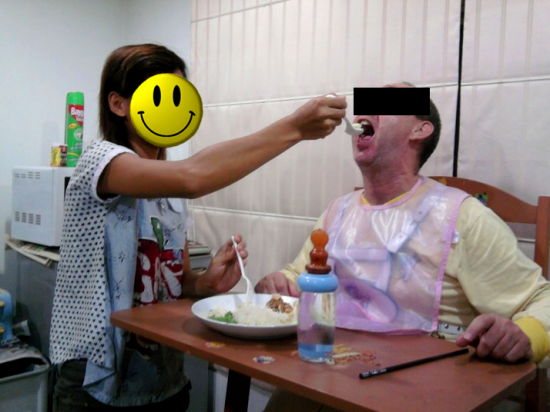 Mommy and Me
July 16, 2020
The driver turned the engine off and then got out to get my stroller out from the back while Tanya went around to my side (the left side) to open the door and get my diaper bag and I out of the SUV. Then the driver lady came over to my side pushing the stroller. Tanya then put me into the stroller and then buckled me into it. Then she and her baby care tech and driver pushed the stroller over to the playground. Once at the playground, Tanya unbuckled me from the stroller and then made me stand up so that she could take me by the right hand and take me over to the long, metal slide that was there.
Tanya coaxed me up the ladder of the slide with her right behind me. She grabbed me around my waist, just above my diaper, and then she sat down on the slide and put me into her lap. Then she shoved off and we went down the slide. Then, once we got to the bottom and we both stood up again in the sand pit, Tanya took me over to the rocking horses that had large springs under them. Then she put me up onto one and then she gently rocked me back and forth, as if I was really riding a horse.
Then, the driver lady came over to where Tanya and I were, and asked if she could play with me for a little while. Tanya thought about it for a few seconds and then said yes.
The driver lady took me over to the swings. She lifted me into one of the baby swings and to my surprise, I fit right into it. Then, she began to push me gently back and forth, while she stood behind me. I was looking around and thinking about everything that I have been through and I got all caught up in my thoughts so much that I hadn't noticed that The driver lady had taken me out of the swing and was taking me over to Tanya, who was now sitting on a large, soft blanket, that was spread out on the grass.
"Did baby have fun in the swing?" Asked Tanya to me. "Well, I sure hope so because its diaper changing time." Then Tanya laid me down on the blanket and then began to take out a clean disposable diaper, the wipes container, and the powder before she started to unfasten the tapes of my diaper. Once she was finished unfastening my diaper, she pulled it down and then pulled it out from under me and set it aside. She then opened the wipes container and then took a few out. She then began to wipe me clean, from both front and back, depositing the used wipes into my diaper each time. Then, she opened up the fresh, clean, thick disposable diaper and then slid it under me before she pulled it up between my legs and fastened the tapes on each side of my diaper. "There you go sweetie, all done. Now….lets get you a nice, cold bottle shall we?" said Tanya as she pulled a bottle out from the diaper bag. She popped the cap and then cradled me in her lap so that she could feed me. Tanya and the driver ate, talked and discussed what the plans were for me and my diapers. Once my bottle was empty, and all of the food was gone, the two women packed everything up, and then Tanya carried me while the driver carried everything to the SUV and put it away. Tanya opened the driver's side back door and began to load me into the SUV with my diaper bag put on the floorboard. I was feeling really tired now as Tanya shut the door and then walked around to get in her side of the SUV.
Once Tanya and the driver had got into their seats and buckled in, the driver started the SUV and then put it into reverse. She backed up, stopped and then she put it into drive and then we took off. We drove right back to the nursery. It wasn't long before we arrived there and my diaper bag, my things and I were unloaded and taken back into the nursery. Tanya carried me back into the nursery and put me back into the crib that she had taken me from. She then closed and locked the top before she walked away and began to do her paperwork that describes the results of the test at the park.
It wasn't that long before Amy came over to my crib and unlocked the top and opened it up. She reached in and lifted me out and carried me over to her workstation that was in another room, down the hall from the nursery. She entered the room and closed the door behind her. The room looked like a science lab with all of the various beakers with all sorts of liquids, and gels in them. She took me over to a stainless steel table that had a blue leather pad on it and she then laid me down upon the pad and then she strapped me down to the table. She then stuck her two index fingers into the leg holes of my diaper to feel it for signs of wetness. Feeling that it was wet, she decided to start out with the wet diaper part of the experiment and test on my diaper.
She then began to unfasten my diaper and then she let it lay open flat for a little bit while she went to get a few chemicals that would help deodorize the wet diaper smell in my diaper. She came over and put some chemicals onto the liner of my wet diaper and then she pulled it out from under me and laid the open diaper, onto another table near her. Then she went over to a closet and took out a fresh, clean, super, super bulky & thick disposable diaper and some diaper doublers. She brought all of that over to me and began to open the new diaper so that she could put it on me. She slid it under my butt and then she placed the diaper doublers into the diaper starting at the back and working her way to the front. Once the diaper doublers were in my diaper, she powdered me and the diaper before she pulled the front of the diaper up between my legs and began to fasten the tapes that were on each side. Once she was done, she walked away and left me there for a few minutes until a tall, skinny woman wearing a white lab coat and a pair of glasses came over to me. She had a kind of accent when she talked. (She sounded like one of those rich people or kind of like "Stuwie" from Family Guy or Elisabeth Hurley.) She came over to me, inspected me all over, lifting my butt and looking at how my diaper fit me and how thick it was. She then instructed the lady who had changed my diaper, to take me right over to the dirty diaper foaming machine and put me and as many diapers that needed to be dirtied as she could. Then she was to start the machine and let it run. A buzzer would alert her that the cycles were done. As soon as the woman in the lab coat was done giving her instructions, I was taken right over to the machine and put into it with a ton of other disposable diapers that were opened and were going to be exposed to whatever liquids or gels that were going to be squirted into this agitator. Once the agitator was full, the door was closed and the machine was turned on. Twenty minutes later, the machine was done and the buzzer went off. A few minutes later someone came over to unload the diapers and I from the machine wearing latex rubber gloves. The diapers and I were taken out and then placed into a large trash cart that was quickly filling up. Then, once it was full, the cart was rolled away from the machine, out of the room and out to the factory floor and over to the manager's area so that they could decide what to do with me from there. The diapers were still nice and soft and smelled like fresh Luvs Diapers. The managers were busy talking amongst themselves about the products that they were busy making and the quality reports that were submitted to them. Then, one of the managers stepped out of their booth and saw the cart that was full of diapers and a baby that was covered in diapers and had on one of the factory's thickest disposable diapers.
"Well, well, well! What do we have here? It looks like our quality control baby has been disposed of with the diapers that he was tested in. Well, guys, how should we go about disposing of him and all of those diapers?" Asked one of the managers to the others.
"Well, I think that we should at least try to sell him. That way, we can try to get some money out of him. If we don't sell him there, take him straight over to one of the trash cans made for diaper disposal and throw him and everything that came with him, right into the trash on top of him and then, leave him there." Suggested one of the managers.
"Ok, we will give that a try. But don't we have to clean him up a lot and get him into a fresh, cleaner, thick disposable diaper first? I mean…I wouldn't buy that baby the way he looks and smells right now!" Stated one of the managers. "Well, I think I will get that taken care of right now." Said one of the managers as he left his station to go and ask one of the baby care techs in the nursery to get the baby all cleaned up and prepared to sell for them. The baby care techs came over to the Managers station and then took me out of the cart and then carried me over to a changing station so that they could take my diaper off first. Then the baby care techs took me over to a bathing station and bathed me. Then, they dried me off, and then took me back over to the changing station to get me thickly diapered so that I could be taken to the sale. Once they had diapered me, they then, carried me over to the managers who then instructed them to put me down into the stroller that they had set up for me at their station. The baby care techs let me down into the stroller and then they strapped me in and then they all left and returned to the nursery.
Then, one of the lead managers came over to the stroller and began to push it outside, past the entry gates of the factory, and then out to the local sidewalk that led to the buildings where the sale was going to happen a few hours from then and a few blocks away. Once we arrived, the doorman checked us all in, gave the managers tickets and then I was pushed inside. There were babies, tons of diapers of all types & styles, and there were people selling diapers, rags, plastic pants, disposable diaper packages full of fresh, clean diapers, babies that had on very, very thick, droopy disposable diapers, thickly layered cloth diapers with no plastic pants, some of the babies were girls while others were boys. Some of the people were busy prepping their babies for the sale and others were busy feeding their babies. The managers just pushed me past all of the booths that were full until they found the one that was on their tickets. Once we got to our booth, they began to set up everything that they had brought down here, little, by little over the past few days. They had brought ten dozen cloth diapers, cloth training pants, & rubber pants. They also brought with them a ton of their own brand of disposable diapers that they made in the factory. One of the managers made a phone call to someone to ask them to come down here so that they could be with the baby, feed him, change him and rock him while they attempted to sell me. Then, he hung the phone up and then came over to me and unstrapped me from the stroller. He picked me up and carried me over to a crib that was right up front. He then had one of the other managers open the crib so that he could put me down inside. The manager then put a pillow under my head before he closed and locked the crib with a key. He then walked away and began putting the diapers out on the tables in front of the booth.
I soon fell asleep and stayed asleep for quite some time. It wasn't until I was awakened by one of the managers opening the top of my crib, and reaching in to pull me out.
Once I was out of my crib, the manager set me down on my feet and then he forced me to walk out to the front of the booth so that a customer could look me over very well.
"What are you asking for him?" asked the customer. "I want $1,000 dollars for him and all of his things are included." Stated the manager. "Does this baby wear cloth diapers? Can he wear cloth diapers? Will he wet enough to be able to wear cloth diapers?
Asked the customer. "Well, when he came to us, he was wearing cloth diapers, but we don't use cloth diapers on our babies, we use the cloth diapers to make disposable diapers. So the baby had been in disposable diapers the whole time he was with us."
Stated the manager to the customer. "Well, what if I want to use him to wear only cloth diapers so that we can either flush the diapers, or dispose of them? Will he be able to wet them enough so that we can change him into dry cloth diapers?" "Oh, you won't have to worry about that sort of thing. He sure wets enough in his disposable diapers, so maybe he will if you diaper him in cloth." Stated the manager to the customer.
"I like the way he looks in disposable diapers too, though, the diapers sure hug him well in just the right areas. What brand of diaper is this?" Asked the customer to the manager.
"Its one of our own brands that will be out on shelves in the next month or so." Stated the manager. "What happens to the baby and all of his things if no one buys him, once the sale is over?" Asked the customer. "Well, he and all of his diapers, clothes, stroller, bedding, pillow, and all of his stuffed animals will be tossed into the trash compactor that is behind the main building over there. He will possibly get stripped down to just his diapers and then he'll be tossed into the compactor. Then, whenever the management of this place decides to run the compactor, then they will compact him and all of his things."
Stated the manager. "Well, can I think about it some? I want to go and look at a few more babies still before I make a choice." Said the customer as they both walked away.
A few minutes later, a crowd of people came from everywhere to come and look at what everyone had for sale. There were all types of people there. There were, diaper factory owners, Mommies & Daddies with their other babies, there were daycare owners, there were kidnappers lurking about, waiting for just the right moment when some one would leave their babies alone, there were other companies there, advertising their diapering products and diapers from all over the world, there were trash men, advertising new services that they offered to mothers, fathers, diaper companies, daycares, and anyone who would be disposing of diapers and or babies. Before I knew what was happening, there were at least twenty or so different people standing in front of the booth that I was in, as the people all scrambled to see what kind of baby this man had for sale and what type and styles of diapers he had for sale as well as what type of diapers I was wearing.
There were lots and lots of people asking the man question after question about me and the diapers. This one couple, a man and his wife, came over to my crib and stood there, looking at me, poking their hands through the bars. The wife bent down to take a really good look at me and she even began to talk baby talk to me. I felt like a cat or a dog at a pet shop. The people were all talking about how thickly diapered, I was and how they were going to take care of me if they bought me. Before I knew what was happening,
The manager had come over to my crib, opened it up, reached in to pick me up and get me out of the crib so that he could show me to everyone. Everyone crowded around so that they could touch me, my diapered butt, poke at the back of my diaper, and rub my head. Everyone was asking how much he wanted for me and if anything that was there, was included. The manager answered all of their questions and even told them that by the end of the sale today, if no one bought me, he was going to dispose of me and all of my clean diapers, my stroller, my clothing, and anything else that I came with.
This made people more anxious to buy me. There were six couples having bidding wars just to be the only ones to be able to get me. Before too long, the asking price that the manager had set had gone way up to almost double what he has originally asked.
Then, it happened, the bidding wars stopped and everyone stopped bidding because I had been sold….sold to a rather young couple who looked as though they had lots and lots of money.
The female, came right over to the manager who was holding me in his arms and she grabbed hold of me just above my waist and brought me into her arms, cradling me gently. She was making cute cooing sounds and talking baby talk to me, while her husband paid the money for everything. Then, the husband asked their driver to collect everything that they had purchased and load it all into the limo. Then I was carried away from the booth and over to a waiting limo that had a large baby seat in it, waiting seemingly, just for me. Once I was secured into my new baby seat, my new parents began to talk about what they were going to do with me once they took me home.